NEHC Western/Reining Seat Medal

NEHC Office | phone number: 603.887.6342

To fill a class, three competitors must show with proper appointments. At least the top three contestants are required to perform the following test:
Important information for anyone who is interested in qualifying for the Medal Finals!
Competitors may qualify up to 14 days before the published NEHC date of the finals.

All exhibitors must present a valid membership card before the class, and show secretaries must record this number.

A multiple day show (a show consisting of more than one day) may offer two Western/Reining Medal Classes.

To fill the class, three competitors must show with proper attire.

Once a contestant has qualified, they are no longer eligible for the qualifying classes.

Violation will forfeit eligibility for finals for that year!



Open to Amateur Members of the New England Horsemen's Council. Riders shall be judged on seat, hands, performance of horse, appointments of horse and rider and suitability of horse to rider. Horses are to enter the ring at a walk and will be judged at a walk, jog and lope. They shall be worked both ways of the ring and must be on the correct lead. Horses are required to back.
1. Starting 20 ft off the right rail, jog to center- Halt

2. Turn 1/4 turn to the left- Halt

3. Lope circle left lead (Simple or flying change optional)

4. Lope circle right lead.

5. Halt- Turn right 1/2 turn

6. Jog back to center, turn left and continue jogging to end of ring.

7. Halt- Back 2 horse lengths.

Return to lineup.

***At the finals, the above test is not required; all contestants will perform a test of the judge's choosing.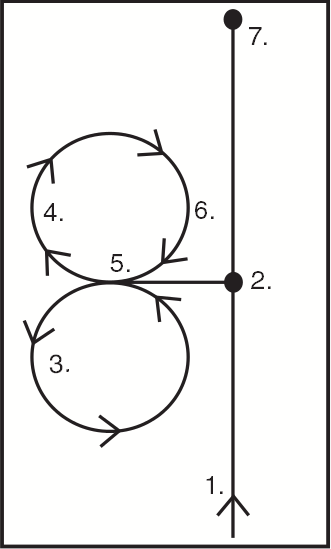 There are two (2) Western/Reining Seat Medals held- Junior (members who have not yet reached their 18th birthday) and Amateur Adult (members 18 years of age and over).

The Western/Reining Seat Medal Finals will be held if four (4) exhibitors qualify.
A Western/Reining Seat Medal winner may do the medal again after waiting one year.