NEHC Western/Reining Seat Medal

NEHC Office | phone number: 603.887.6342

The NEHC Western Medal classes began in the early 1990's and participation has been growing every year. We offer two finals- one for adults, and one for juniors. Those wishing to participate in the finals must first qualify at any show that holds the qualifying medal classes and be a member of NEHC. (You may join NEHC at any affiliated show or online here.) Visit our "events" page for a list of shows that hold these classes and the "qualifying" page to see more information on how to qualify for the finals.
The medal class itself is a horsemanship class, judged on the ​rider's seat, hands, performance of horse,
appointments of horse and rider and suitability of horse to rider during rail work and patterns. The qualifying class runs rail work and a pattern which you can find on the "qualifying" page of this website and in the NEHC Rulebook. For those who qualify, the finals are held in two parts- all riders compete in phase 1 then the top 10 riders are called back for phase 2.
​NEHC provides the Medal trophy, ribbons and neck sashes for the top 10 places. The Western Committee, at its discretion, may arrange for additional awards to be presented at the Medal Finals.
NEHC also sponsors the Championship for a Junior rider and awards a $500.00 Essay Scholarship. The recipient of the scholarship must provide a copy of their transcripts for payment upon completion of their first semester in Post Secondary School. Scholarship will expire in five years unless a letter of intent is received at NEHC Administration Office.
Junior Champion Awards



Sportsmanship Award
$2000.00 William Woods University Scholarship
NEHC Belt Buckle
NEHC Trophy

Adult Champion Awards



Sportsmanship Award
NEHC Belt Buckle
NEHC Trophy

Emily Wise, winner of the 2014 $500 essay scholarship.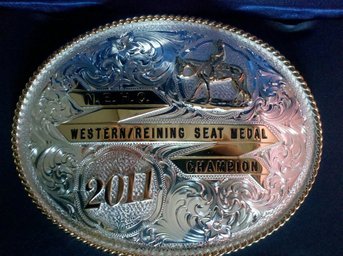 Reserve Champion for both the Junior and Adult Medal recieve an embroidered director's chair
3rd to 10th place receives awards that have been donated by sponsors. Past awards have included Cowboy Magic products, garment bags, saddle pads, tote bags, saddle covers, and saddle stands.

Finals are held at the Octoberfest Horse Show at the Big E Show Grounds.
Riders agree that they all have a great time while participating in the Medal Finals and that it is a friendly, caring atmosphere. Just see these testimonials:
"I have done the Western Medal Finals as a junior and now as an adult and have never felt more welcomed and at home than when I am showing at the finals. Being able to show in the Colosseum at Eastern States is such a fun experience and those great memories will stay with me forever."
~Brittany Mayer

Please plan to attend this year's Western Medal Finals.
See you there!

"Last year was my first year as an observer and I can't say how impressed I was with the way things went- the judging, the talents of the horses and riders. I also was so very impressed with how helpful everyone was to one another; it did not matter that they were competing against one another, they just helped. That impressed me the most."
~Pam Martin

"NEHC Western Medal Finals has been a great part of my show season for a few years now. I have made some great friends and had some awesome experiences at finals. I was also able to learn a lot through the clinic that is offered annually. It is overall just a great program to be a part of."
~Alyssa Marzilli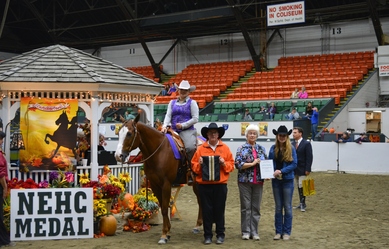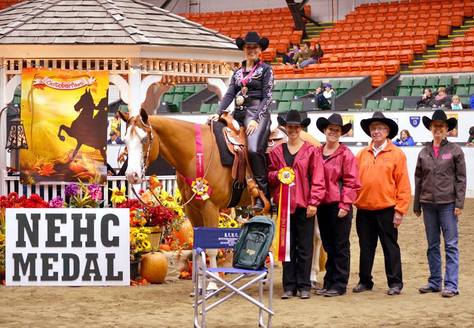 "As a first time competitor for the NEHC western medal I must say I was impressed. It was a great opportunity for me to compete at the Eastern States show grounds and what a fabulous show it was. I can't say enough about the Octoberfest show staff for putting on such a well managed and run show. I also took advantage of the Open Western classes offered and felt that I was fairly judged. Looking forward to next year. - Katelyne Tiffany